I am sure you are feeling more nervous than usual, wondering if you made the right choice and playing in your head over and over how it will go. It is very brave to start a new job during these times, no matter which circumstances brought you here. Feel proud about it, because it takes courage.
It will be a different ride this time, and I can assure you these 2 things will happen to you:
you will feel isolated and disconnected from the team
you will need more time than you think
But it will also be an experience you will never forget, and believe me, it can be done. I learned a lot from it, and I would love these tips to help you with yours.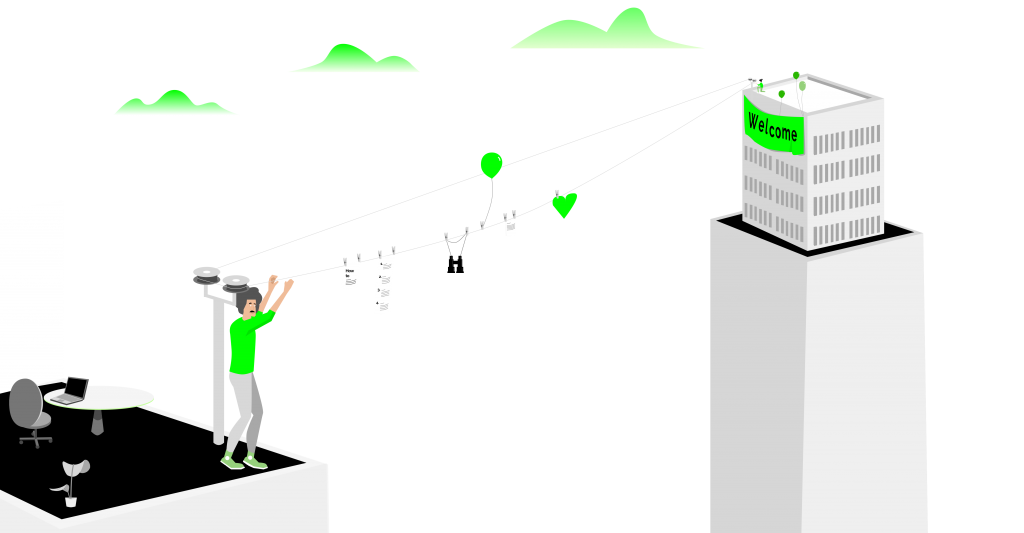 #1 Cut yourself (and your team) some slack
Do not underestimate how important human connections are. Full remote onboarding requires a lot of discipline and practice, from all parties involved. Even when quite some weeks have passed and we are getting used to working from home, it is still new territory we all need to learn how to master. Be patient with yourself, and with your new team.
Things will go wrong (getting access sorted will take longer, your internet connection will drive you crazy, you will not be able to find that person you need to talk to), but you will find your way. Navigating the new company from home will allow you to discover things you will never find while at the office. Think about what you find on the way, and write down improvements you think you could bring up so that the next ones after you have it easier.

#2 Reach out, don't be afraid to ask
Please do. Don't stop because you feel you are way behind, or because you think everybody is too busy for it, or because you don't want to become the annoying person asking stuff all the time. Just ask for help, be open about where you need support and it will come. It is needed and will create additional bonds with your new colleagues.

#3 Celebrate your successes, and share them
You will feel insecure because everything will take so much longer. I am sure you will doubt yourself more than once during this period. It is a good idea to discuss with your manager and your team what goals you are expected to meet and the timelines. Make sure you have them clearly defined and that you understand them.
And then celebrate your successes. This is one of the most powerful tools for these days. Make sure you spend at least a couple of minutes at the end of the day to reflect on the achievements you made and the new insights you got. Write them down and share them. You can even suggest to your manager to start doing this together ( you can always send them to me 🙂 ). It works.


I wish you good luck in your new start, and please be extra aware of those judgements in your head, about others and about yourself. Compassion is extremely necessary these days. It is not only about understanding the situation someone else is, but it is also about being willing to help them. Practice it every day.
Andrea